Holographic Labels to Prove Authenticity
Export and sales of alcohol specific to a North American region has grown exponentially in the last 5 years. The organization that regulates the quality of this product needs to certify that the bottles have export quality standards and that they are easily identified by consumers and importers from other countries.
ORIGINAL SITUATION
The client organizes and oversees all the national producers.
Their product begins to be exported to all continents, with Asia and North America being the main buyers.
It is important to authenticate that the product has been qualified and certified by the client.
CHALLENGES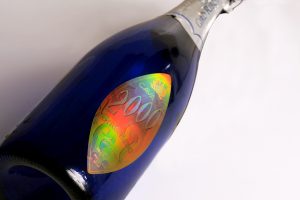 Create a high-security, holographic design that guarantees the originality of the holographic label and promotes the product personality.
Include in each label a numeric control that helps track each bottle of the product anywhere in the world, identifying the bottles for national consumption and export.
Maintain continuous production for the client to guarantee the availability of labels to distribute to producers.
MEASURES TAKEN TO OVERCOME THE CHALLENGES
Developed a holographic design with six high-security locks, while designing a label that is appealing to the final consumer.
Created an algorithm to avoid duplication of the label identifiers, taking care of prefixes for the different producers, classifying the product for national consumption or export, and embedding the production date, printed in the holographic label with ink jet technology, but protected by a plastic film to avoid its alteration.
Stocked sufficient raw materials to guarantee continuous production of labels for the client for prompt delivery of the product.
RESULTS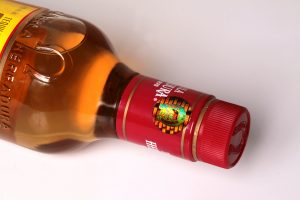 All the bottles of this product in the world are certified for quality by the client. Domestic producers that wish to sell this product must acquire their holograms from the certifier and apply them according to the beverage production date and its authorized area of consumption.
The identifiers on the holograms allow the client to identify and track the origin of each bottle, avoiding misuse of the security holographic labels by the producers.
The design developed for the client is not only safe because of its security locks, it's also appealing to the consumer. The design contains dynamic effects that make each bottle more attractive, separate from the assurance of authenticity each consumer feels when purchasing a bottle.