Advanced Holographic Labels
What is a holographic label? Security holograms are labels with a hologram printed onto it for security reasons. Holograms on security labels are very difficult to forge because they are replicated from a master hologram which requires expensive, specialized and technologically advanced equipment. They are used widely in several banknotes around the world, in particular those that are of high denominations. They are also used in passports, credit and bank cards as well as quality products. Herman Lopata, the President of the New York-based Automatic Toll Systems, Inc., received a patent in 1987 for the credit card security hologram as part of his early work on high-speed highway toll collection—the predecessor of the modern EZ Pass type equipment.
Holograms are classified into different types with reference to the degree of level of optical security incorporated in them during the process of master origination. The different classifications are described below:
2D / 3D "hologram" images
These are by far the most common type of hologram – and in fact, they are not holograms in any true sense of the words. The term "hologram" has taken on a secondary meaning due to the widespread use of a multilayer image on credit cards and driver licenses. This type of "hologram" consists of two or more images stacked in such a way that each is alternately visible depending upon the angle of perspective of the viewer. The technology here is similar to the technology used for the past 50 years to make red safety night reflectors for bicycles, trucks, and cars.
These holograms (and therefore the artwork of these holograms) may be of two layers (i.e. with a background and a foreground) or three layers (with a background, a middle ground, and a foreground). In the case of the two-layer holograms, the matter of the middle ground is usually superimposed over the matter of the background of the hologram. These holograms display a unique multilevel, multi-color effect. These images have one or two levels of flat graphics "floating" above or at the surface of the hologram. The matter in the background appears to be under or behind the hologram, giving the illusion of depth. Among other types would be listed below.
Dot matrix
3Flip flop
4Electron-beam lithography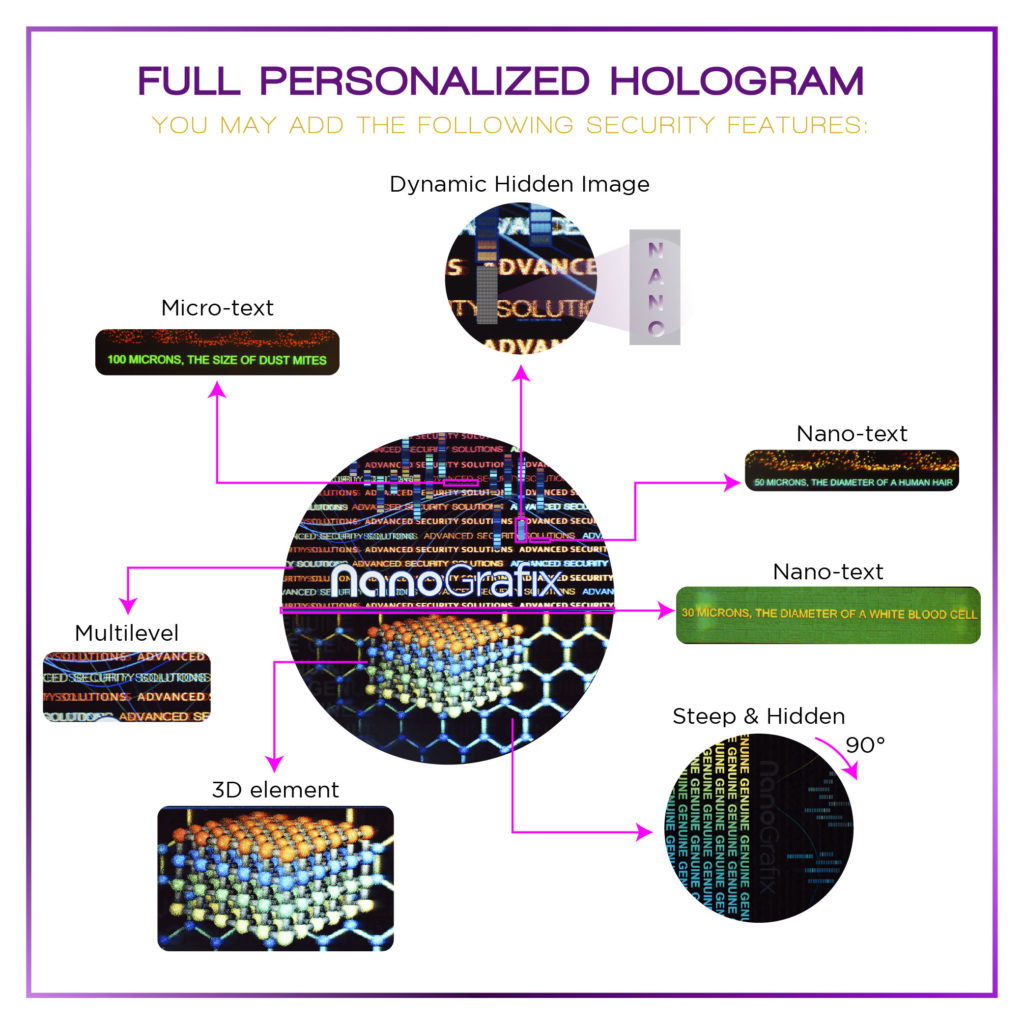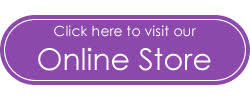 Advanced Holographic Labels
You may be asking yourself what is a hologram? A hologram is an image that has been printed in such a way that it appears to be three dimensional, even though it's on a 2D surface. Security labels usually use holographic foil for their 3D effects. Holographic foil is thin plastic sheeting that has an image printed on it with a laser. First, a single image is captured from many angles. Then all those angles are printed onto the foil. The result is a picture that looks three-dimensional even though it is flat. Generally, the patterns are simple – regular or slightly irregular shapes, or lines of text – because they don't need to be very complex to resist tampering or counterfeiting.
The label material used under the holographic foil is generally a light-diffracting metallic silver, as the holographic images "pop" more against a shiny or bright background. When moved, the diffracted light makes colors and shapes appear to shift and move.
Some people add a tamper-evident layer to their labels. If someone tries to peel off the label, a residue will remain behind in a regular pattern. The most usual residue patterns are the word "VOID" repeated across the surface the label was stuck to, or a checkerboard or dot patterns.
These labels are not true holograms in the scientific sense of the word, but they give the illusion of depth and movement. While still difficult to forge, they are more affordable than other types of holographic images.
Uses for Hologram Labels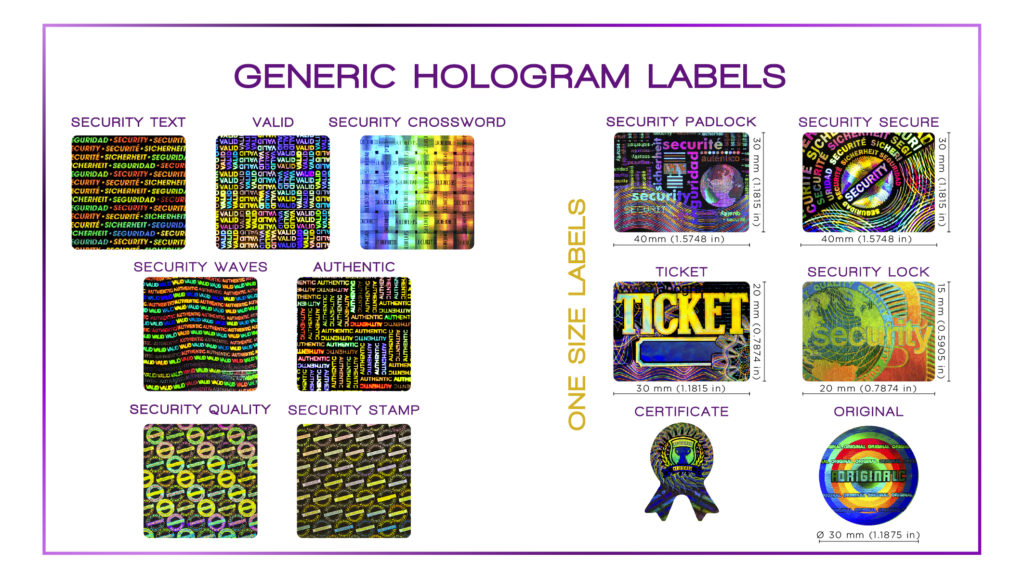 Reverse printed black ink over "genuine original" holographic foil
You can use holographic security labels to protect your products and increase their visibility and shelf-appeal. You can also use them to authenticate documents or other items (membership passes, autographed items, event tickets; the list is endless). The Professional Sports Authenticators organization recently added a security hologram to their authentication labels, as an example.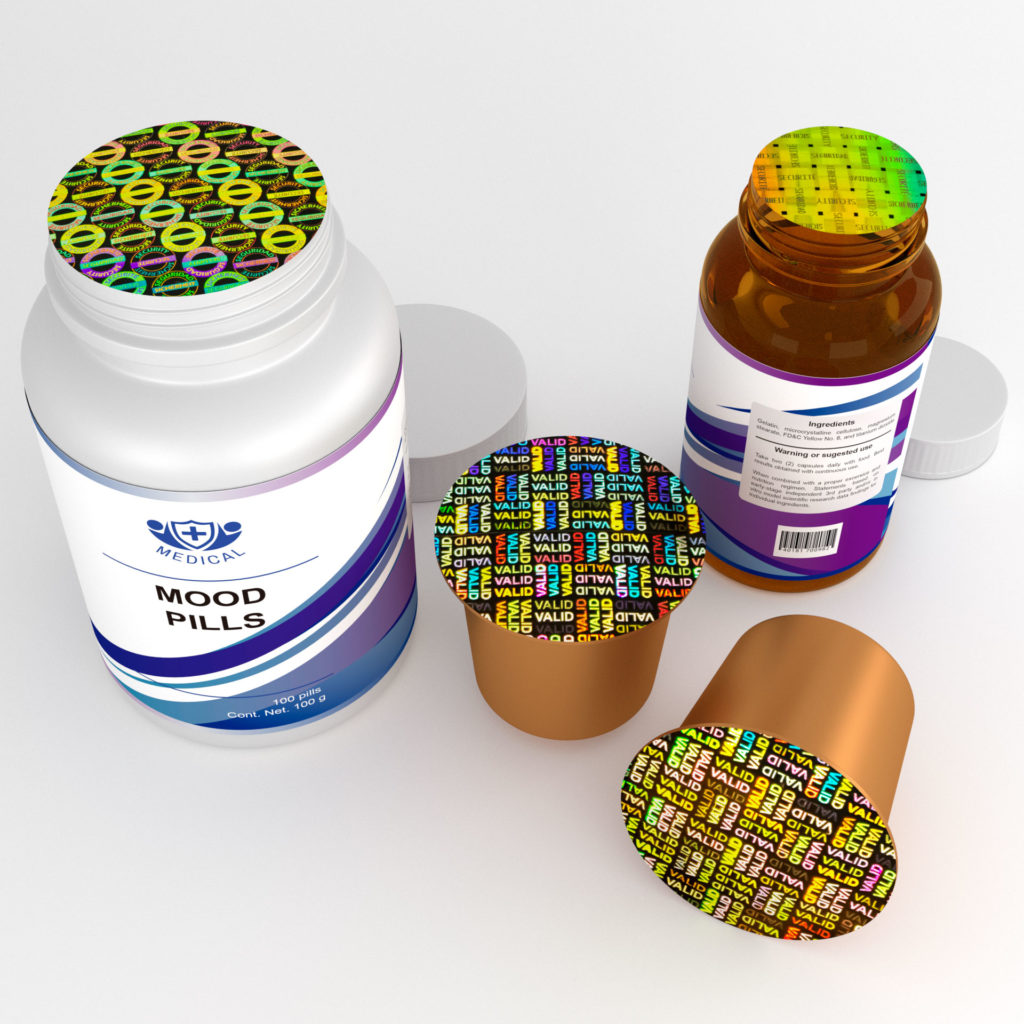 In addition, some gas stations and convenience stores use them to secure and authenticate their unmanned card readers or Point of Service terminals. (If you see a holographic sticker on one, check to make sure it's not partially covered. If it is, someone may have placed a "skimmer" over the card reader.)
Blank holographic stickers can be used as seals or package closures. But you probably want text, graphics, or serial numbers printed over the holographic foil. The labels can be very effective when "reverse printed" with black or another dark color, leaving the holographic foil to show through the text or the open spaces in the graphics (as shown in the label above). This method may also increase text readability.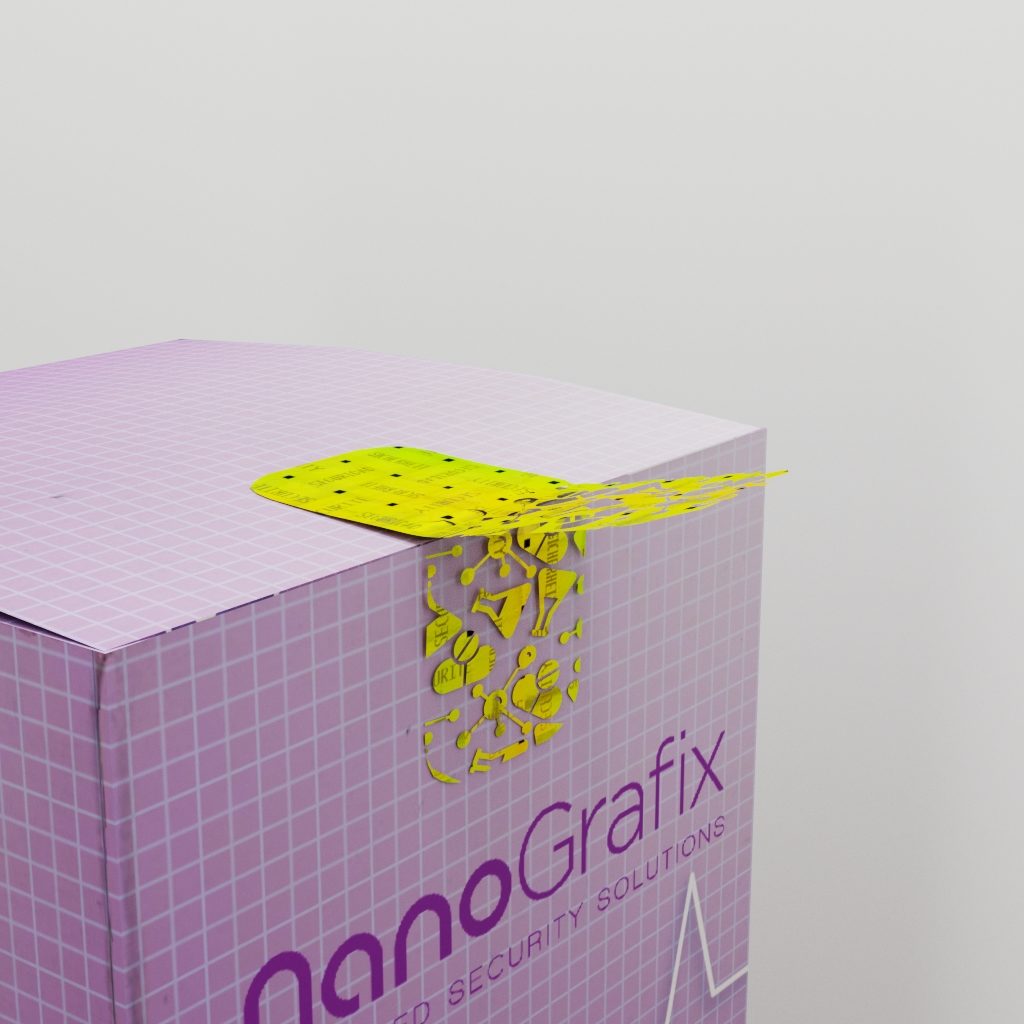 Nanografix security hologram products, security labels, can be used by manufacturers, retailers, pharmaceutical companies, corporations, and government entities, among many other industries. They are created using business processes which are ISO9001:2008 certified and we continuously monitor benchmarks and constant refining to ensure our customers receive the solution that will best protect their brand identity, integrity, and effectively minimize, if not eliminate counterfeit losses. Our holographic security solutions are developed to resolve issues of security, authenticity, counterfeiting, identity, and branding, all of which represent some level of impacting our clients from many industries experience. You may be facing similar challenges and discovering an effective appropriate solution is likely been a struggle, Contact Us. Nanografix is as relentless in its commitment to the customer as it is about its quality. We also offer shrink sleeves, need your products with proper labels and security measures? Visit our website online and YouTube Channel to see more information on our services and products!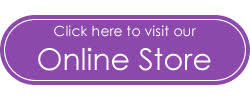 Advanced Holographic Labels
We offer a variety of affordable advanced holographic labels and anti-counterfeit solutions which can be custom imprinted with your company name, logo, consecutive serial number, barcode and other features such as track and trace.
Holograms sold as designed without further customization, which can be great for those clients needing urgent labels. These holograms are available for immediate shipment.
The hologram images on this page offer more security than other generic holograms because the images have limited distribution and are not widely available from other companies on the internet.
Our stock holograms on this page are intended for one-time events or applications where using a generic hologram sticker, which is also sold to other users, still offers appropriate security. The images on this page offer limited security because this generic image is widely available from other marketers and distributors. If clients are in a rush to get fast delivery on hologram labels this option works great to get the product as fast possible. Come visit us online so we can help you with your security labeling/packaging needs.
Advanced Holographic Labels