We create generic holograms from stock art. Generic holograms have the basic characteristics of our customized products, but no personalizing elements. This product is a good choice if you have a small budget or are in a hurry. These holograms can be used for all sorts of applications without the expense of generating a holographic master. These materials have many uses, including security applications, decorative applications, and as base materials for printing applications.
How to personalize a generic hologram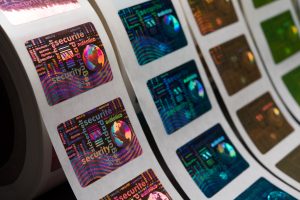 Are you working with a tight budget but want to use a hologram? Here are some ways you can make a generic hologram uniquely yours.
Add printed text, such as your company name or logo. Add printed sequential numbers or QR code for track and trace applications.
Add colored ink. This will make even a generic label look different.
Use UV invisible ink. UV ink is handy way to quickly verify credentials like tickets for concerts, ID badges for events, etc.
Die cuts. Personalize your hologram using micro cuts and micro perforations to create labels of your own shape and size.
Tamper Evident. Make the hologram using tamper-evident material.